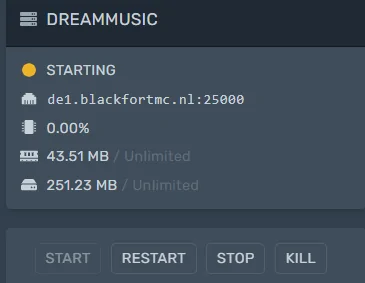 Separate Killbutton Pterodactyl v1.3.2 and v1.4.x Addon | Why one button if its easier to have two? [1.2.1]
---
Support very fast and addon is very good !
---
---
Very useful addon. No longer shall I be annoyed by my discord bot server not shutting down with 1 click.
---
---
Works great! I honestly didn't even know you had to click stop twice to kill the server. This is so helpful!
---
---
This addon is pretty helpfull! I was getting tired of clicking 2 times stop when I wanted to restart my discord bot.
---
INFORMATION
---
First Release:
April 14, 2021, 8:48 am
Last Release:
May 17, 2021, 8:08 pm
Blackfort Development Resources
---